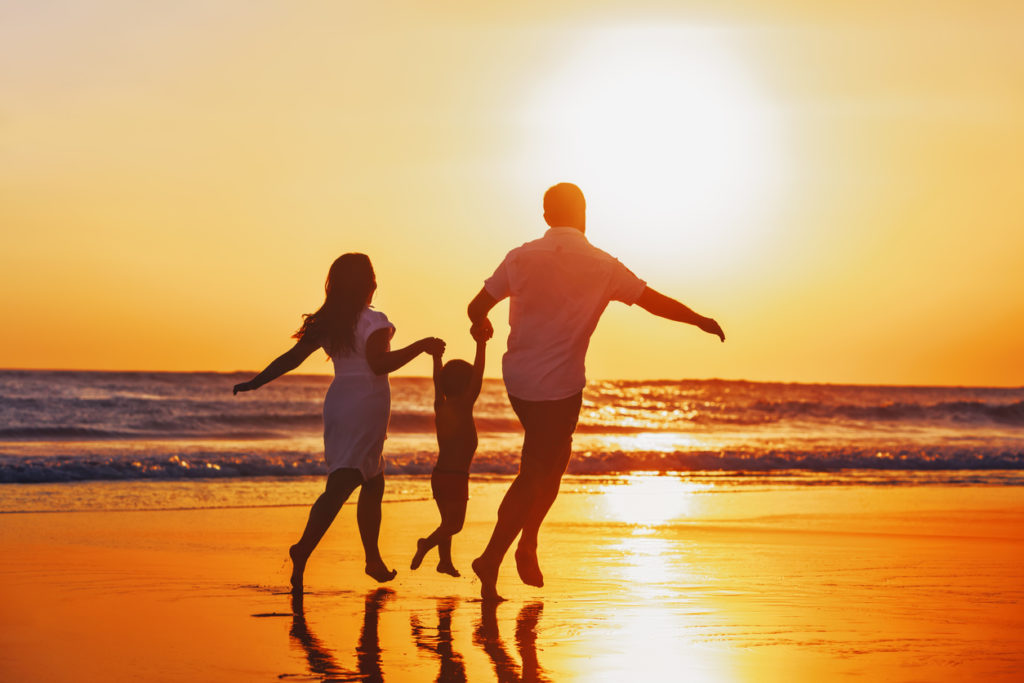 A rich man inspires this little story, one you've probably heard. It's called the Mexican Fisherman Story and it's a parable about simplicity. About gaining more by doing less. About living at God's perfect pace, not just during Lent—but always. Here's the story:
An American businessman was standing on the pier of a small coastal Mexican village when a small boat with just one fisherman docked. Inside the small boat were several large yellowfin tuna. The American complimented the Mexican on the quality of his fish, asking how long it took to catch them.
"Only a little while," the Mexican replied.
"Why don't you stay out longer and catch more fish?" the American asked.
"I have enough to support my family's needs," the Mexican said.
"But," the American asked, "what do you do with the rest of your time?"
The Mexican fisherman said, "I sleep late, fish a little, play with my children, take a siesta with my wife Maria, stroll into the village each evening where I sip wine and play guitar with my amigos, I have a full and busy life, señor."
The American scoffed. "I am a Harvard MBA and could help you. You should fish more. Work more. Earn more. Then buy a bigger boat." And then?
"Then you could buy several boats, eventually owning a fleet. Then instead of selling your catch to a middleman, you could sell directly to consumers, eventually opening your own can factory. You would need to leave this small coastal fishing village and move to Mexico City, then LA and eventually NYC where you will run your expanding enterprise."
The Mexican fisherman asked, "But señor, how long will this all take?" 
To which the American replied, "Oh, 15-20 years."
"But what then, señor?"
The American laughed and said, "That's the best part. When the time is right you would announce an IPO (Initial Public Offering) and sell your company stock to the public and become very rich. You would make millions."
"Millions, señor? Then what?"
The American said slowly, "Then you would retire. Move to a small coastal fishing village where you would sleep late, fish a little, play with your kids, take a siesta with your wife, stroll to the village in the evenings where you could sip wine and play your guitar with your amigos."
Doing Less for God
Ah, yes. We see the point: Working day and night to "have more" and "be more" only leaves us with less.
Even when we work for God? Especially when we work for God. As it turns out, our "doing" more for God—who doesn't need our doing—is far less crucial than "being" more of God to a hurting world.
Being more kind. Being more thoughtful. Being more love.
I reflect on this irony after considering my own work schedule. When the year started, I outlined a half dozen key "important projects" to tackle.
Quickly, I devolved into driving hard and running fast. You know that grind. "Doing more for God," I was meeting myself going and coming.
In recent weeks, during the Lenten season, however, I invited myself to pursue not projects, but His presence.
So I'm going s-l-o-w-e-r. Actually doing less. Giving my best to one thing. (For me, my humble writing.) But getting more done? Indeed.
Jesus invites us to this slower way when he says His believers "will do even greater things" than He did "because I am going to the Father" (John 14: 12-14 NIV).
Sending His Holy Spirit, he means, enables us to do greater things—not by our strength, but by His Spirit.
So help us, O Lord, to stop struggling in our own strength to be adequate at a zillion things. Instead, by His Spirit let's "do" less for God by focusing on one great thing: Telling the world about Christ.
One person at a time.
Then He makes it more. He makes it count. He makes it great. A "simple" Mexican fisherman illustrates this blessed way. The Lord graciously invites us to start living it.
Patricia Raybon is an award-winning author of books and essays on mountain-moving faith.
For more inspiration, check out her pocket-sized devotional, Beautiful Blessings from God. Or consider the full-size version, covering the entire year—the One Year® God's Great Blessings Devotional. 
To travel along on Patricia's faith Journey, please click here.
All Scriptures quoted, unless noted otherwise, are the New Living Translation of the Holy Bible.
(The original Mexican Fisherman Story is commonly attributed to German writer Heinrich Böll, a widely published post-World War II writer who was awarded the Nobel Prize for Literature in 1972.)
Photo Credit: iStockphoto