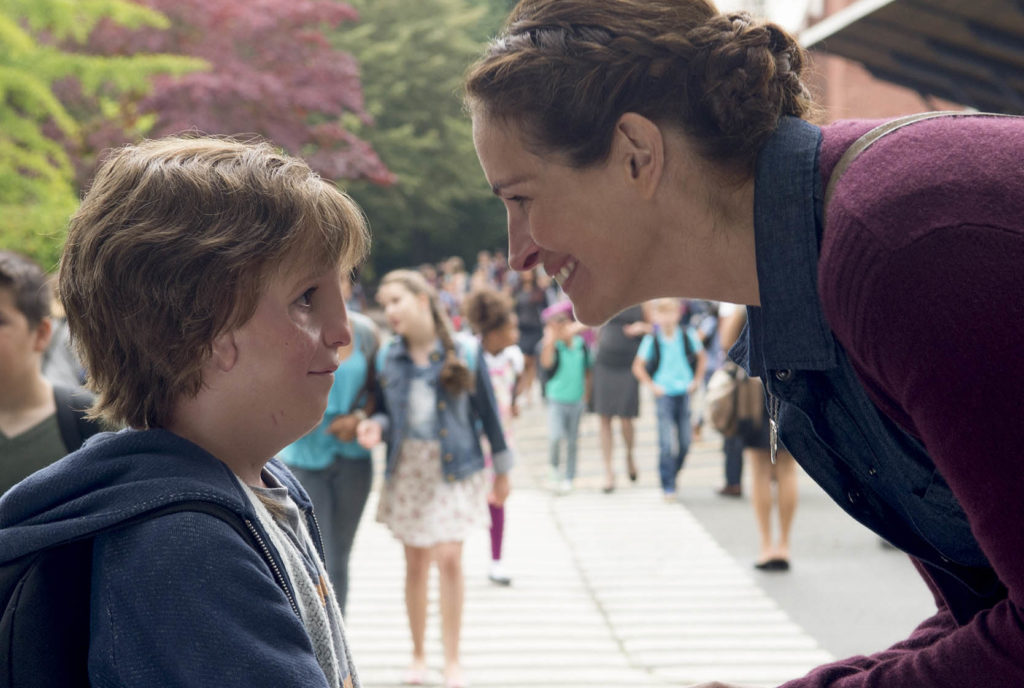 I'd refused to see the movie "Wonder." Medical dramas make me cry. And this story, about a little boy with a severe facial deformity—struggling to fit in at his new school—looked to be a full blown tearjerker. It is, indeed. (Bring tissues.) That's because "Wonder"—based on the best-selling children's novel by author R.J. Palacio—is about kindness.
Yep, a blockbuster about kindness.
Which sounds so simple.
But simple is why moviegoers worldwide are loving this little story. Little stories teach us mighty big things.
With "Wonder," the lesson boils down to this: be kind. Why? Kindness makes life easier. And nicer. And more civil and gracious—and even more fun.
All true, indeed. But why does kindness matter so much now? Beyond the obvious reasons—especially our nasty, political, not-so-kind times?
Humbly, I offer three reasons. (Promise, no movie spoilers.)
First, kindness heals. That's true for all of us. For an outsider such as little Auggie Pullman in "Wonder," kindness proves a healing balm for all he's forced to endure—bullying, shaming, ridicule, rejection and downright hate.
For people who know such pain, the film cuts close to the bone. Hate hurts. And yet? Kindness is divine. In this story, as Auggie's fifth-grade schoolmates learn to show kindness, they change–but he does, too.
As theologian Blaise Pascal said, kind words "produce their own image on men's souls; and a beautiful image it is." In a world where kindness, especially politically, has become rare, kindness lifts us about the toxins. We reconnect with our better selves, flying aright again and soaring high.
So second, kindness is godly. Here's Jeremiah 9:24: "This is what the Lord says…I am the Lord, who exercises kindness, justice and righteousness on earth, for in these I delight" (NIV).
When we choose kindness, we delight God. We also gain respect, says Proverbs 11:16. Consider also this biblical wisdom: "Those who are kind benefit themselves." (Proverbs 11:17, NIV).
In the movie, Auggie's most faithful school friends benefit in heart, mind and soul. But his worst hater? That child becomes the biggest loser of all–along with his fearful family.
In contrast, kindness blesses families through good character, wisdom and also even fun. I laughed as much as cried during this movie, grateful to do both.
Thus, thirdly, in "Wonder," as Auggie and his family walk in kindness, they triumph over a hornet's nest of family troubles—sibling rivalry, parental favoritism, generational tension, but mostly their individual fears.
Which brings us finally to the Bible. One of the Holy Book's best family stories—the story of Ruth—is at its core a priceless lesson about the courage of kindness. You know the story:
When Ruth's husband dies and her aging mother-in-law Naomi is left alone, Ruth chooses to stay with Naomi—traveling with her to a strange country—a kindness that gets people talking. As Boaz tells Ruth: "I've been told all about what you have done for your mother-in-law since the death of your husband…May the Lord repay you for what you have done. May you be richly rewarded by the Lord, the God of Israel" (Ruth 2:11-12, NIV).
In the end, of course, Boaz takes Ruth to be his wife and they have a son—Obed, the father of Jesse, who became the father of David—in a lineage that led to Joseph, the husband of Mary, "of whom was born Jesus, who is called the Messiah" (Matthew 1:16, NIV).
A small matter being kind? In families? In friendships? To fight fear? As both the Ruth story and the "Wonder" movie show, kindness matters most of all for this. For eternity.
Patricia Raybon is an award-winning author of books and essays on mountain-moving faith.
To travel along on Patricia's faith Journey, please click here.
Any Scriptures quoted, unless noted otherwise, are the New Living Translation of the Holy Bible.
(For more inspiration, check out Patricia's five-star rated One Year® devotional, God's Great Blessings.)